The presenter has activated the presenter mode. Would you like to follow?
Follow presenter
You are following the presenter.
Stop following presenter
LECTURES & DISCUSSIONS
BEST PRACTICE / INTERNATIONAL FORUM

FRI 10 MARCH, 11:00 - 16:40
AUSTRIAN FILM MUSEUM
FREE ADMISSION
Once more our lectures will go beyond boundaries and past the limit(ation)s of the 'real'. Traversing diverse 'feminist realities', this year's edition will revolve around (but not limit itself to) topics such as memory-remembrance, materiality-immateriality, analogue-digital, conscious-subconscious, specific-general, or collective-individual. Transgressing the confines of binary divisions, we will imagine and open up different spaces, thereby creating and celebrating 'realness' outside and beyond reality; for real.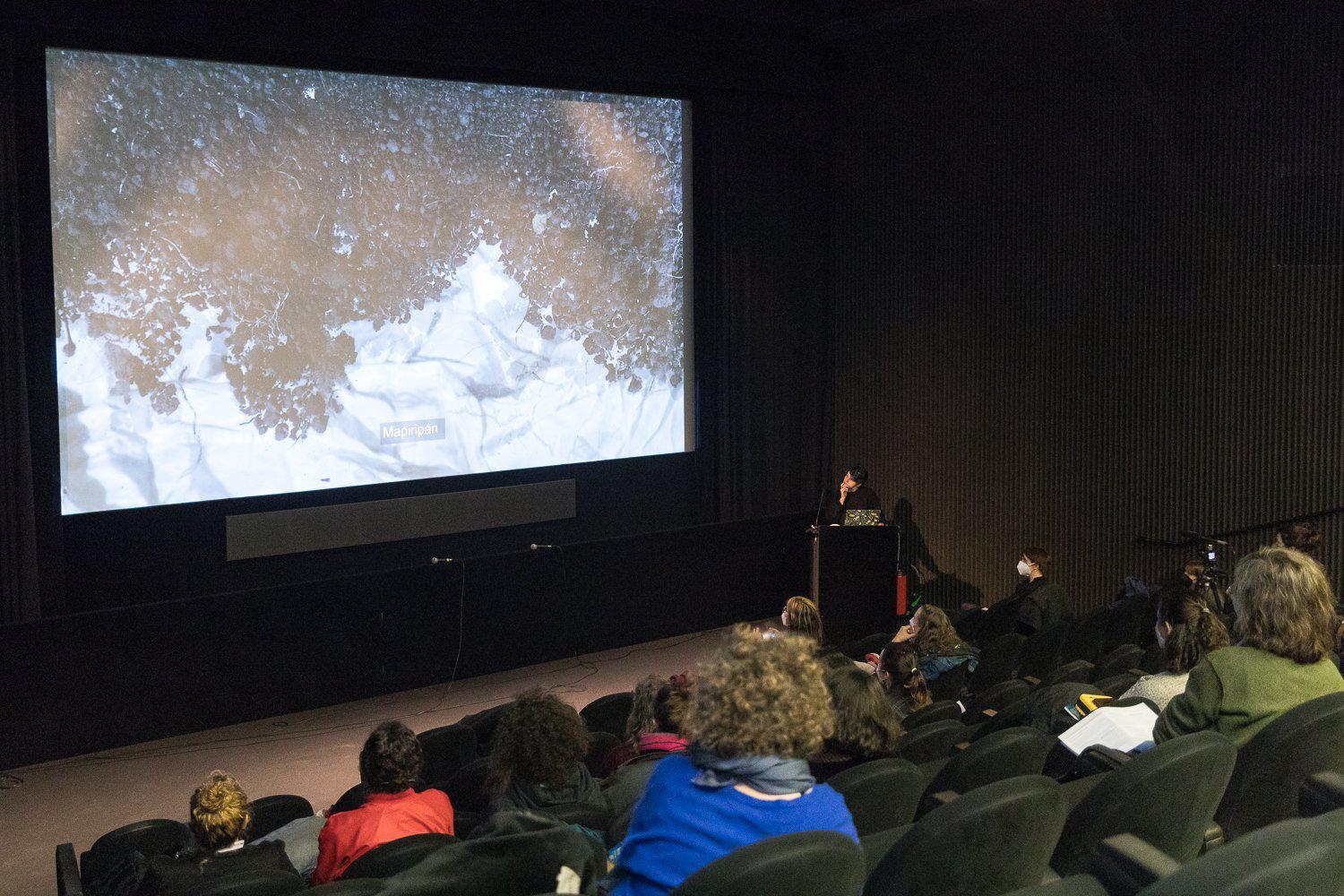 Best Practice 2022 © Photo by Carolina Frank

11:00 SOFIA CARRILLO
ART AS A CURE, ANIMATION AS THERAPEUTIC STAGING

In recent years, documentary animation made by directors who speak from the intimacy of their family environment has managed to transcend the specific to offer a more general perspective – and, attempting to heal the past, to foster feminist futures. In an urge to know how many people in her family had had cancer and to understand the emotional impact of the disease, Sofia Carrillo undertook a playful investigative exercise in self-ethnography. For The Sad House she used family constellations therapy and her own concept of animism to present a three-generation family history. A stop motion film became a therapeutic staging for the entire family.

12:00 NINA BANDI, MAJA GEHRIG, MILVA STUTZ
BRINGING INTO CONTEXT:
A FEMINIST PERSPECTIVE ON DESIRE, BODY AND TECHNOLOGY
Based on and inspired by the animated films Average Happiness by Maja Gehrig and For Real, for Real, for Real this Time by Milva Stutz, both part of the exhibition at Bildraum 07, Nina Bandi is developing a feminist materialist reading of how technology, bodies and desire interact. Drawing amongst others on Donna Haraway's string figures, she focuses on the in-between spaces which are beautifully created by these two films and traces the political and aesthetic possibilities of connection and transformation while not concealing the material conditions and restrictions. The lecture is followed by a conversation with the two artists/film makers in which they will focus on the processes of animation and putting into perspective forms, bodies, and structures within and as part of the digital (counter-)space.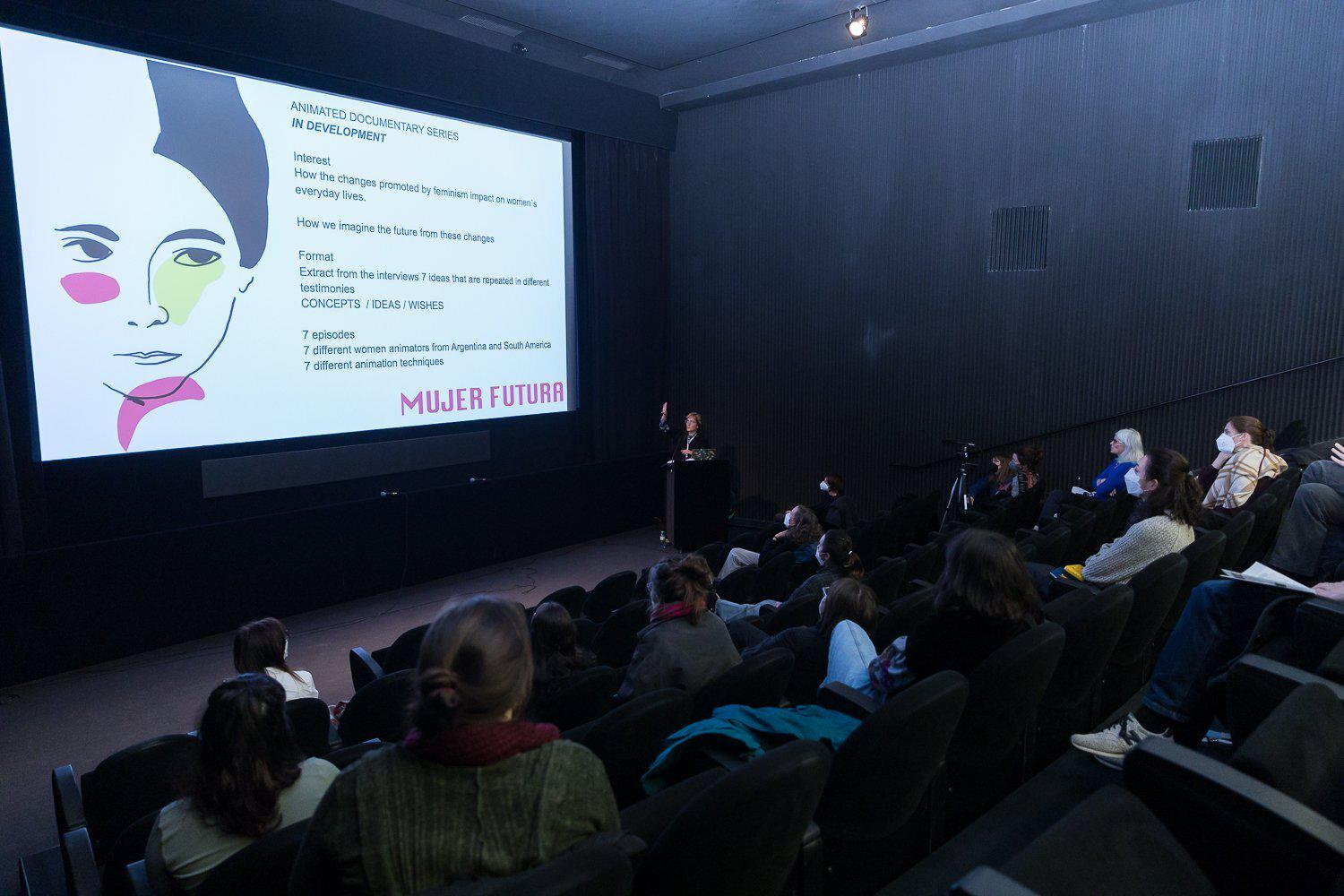 Best Practice 2022 © Photo by Carolina Frank

13:45 EMMA CALDER
BEWARE OF TRAINS - THE JOURNEY

Emma Calder will reveal the inspiration, process and execution of her new film Beware of Trains, twenty-four years in the making. She will explain how she kept the project alive whilst working on other jobs, films, and teaching before acquiring the funding to make the film. Emma is renowned for working in different styles. This film is a culmination of her mastery of collage, in both new and old technologies. She will show early designs, storyboards, and examples of how she technically achieved the project in a tiny studio in lockdown. 'One night I dreamt that I had murdered someone, and I couldn't get it out of my head. The next day I wrote a stream-of-conscious story triggered by this nightmare.'.

14:45 TAL KANTOR
ON HYBRID CREATIVE PROCESSES - BETWEEN ANIMATION, MEMORY, REALITY, AND THE SUBCONSCIOUS

The creator of the film Letter to a Pig, Tal Kantor, will talk about the complex and unconventional process of bringing the film from an abstract idea to the screen, and about the relationship between form and content with the unique technique she developed. She will elaborate on a subjective and different point of view on the inheritance of collective trauma through a feminist and psychological prism.

15:45 - 16:30 #we_do!
Presented by MEIKE LAUGGAS

#we_do! is the contact and counseling center for filmmakers in cases of abuse of power and unequal treatment, discrimination, sexual assault and violations of labor law - anonymous, free of charge and confidential for everyone working in the Austrian film and televisionindustry. In addition to counseling and anonymous documentation of cases, various preventive measures are also developed and offered to contribute to structural change and improvement. Meike Lauggas reports on the work of #we_do! and clarifies the rights and obligations of filmmakers.