The presenter has activated the presenter mode. Would you like to follow?
Follow presenter
You are following the presenter.
Stop following presenter
LOCATIONS
Our onsite festival venues are split into six locations situated close to the city centre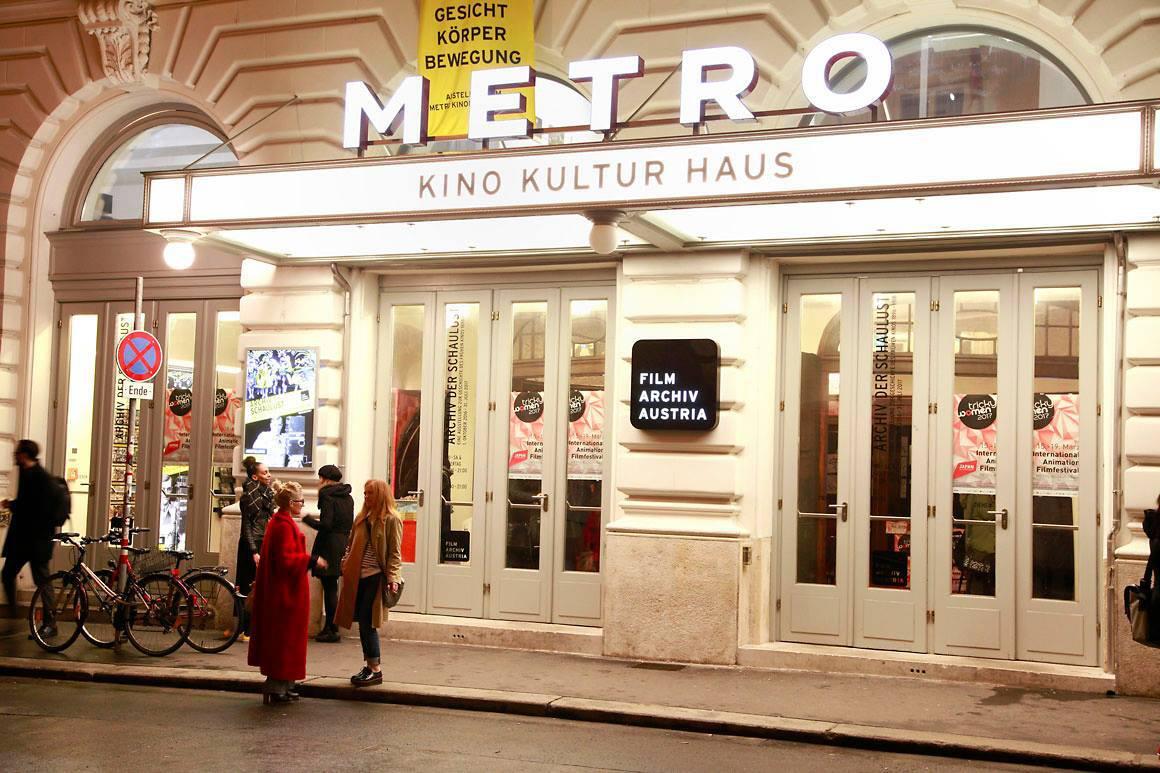 METRO Kinokulturhaus © Photo by Evelyn Rois

The METRO Kinokulturhaus - Festival Cinema
Johannesgasse 4, 1010 Vienna
The METRO cinema is our main festival cinema once again. In the Historical Theatre (Historischer Saal), we show our many programs including the International Competitions, the Austrian Panorama and events featuring the Artist Talk, Q&As and panel discussions. The beautiful wooden panels and red interior of the Historical Theatre built in 1893, present a compelling contrast to the contemporary stories of the festival's films. The Eric Pleskow Theatre (Pleskow Saal) presents another opportunity to see the festival programs in a more intimate setting. 
The cinema is located in the city center and can be reached by public transportation via the U3 (station Stephansplatz), the U1, U4 (station Karlsplatz), or the U4 (station Stadtpark).


Gartenbaukino - Festival Opening
Parkring 12, 1010 Vienna
Join us at the Gartenbaukino with its unique flair for an evening of celebration: the festival opening will be at the beautiful cinema auditorium. You can reach the cinema by U3 (Stubentor) or U4 (Stadtpark).
Brunnenpassage - Film Program EXPLORING REALITIES
Yppenplatz
Brunnengasse 71, 1160 Vienna
For our program Exploring Realities visit the Brunnenpassage at Yppenplatz, a venue for transcultural and participatory art. The Brunnenpassage acts as an ideal space to start a conversation after watching the animated documentaries. And before the screening you might want to stroll through the Brunnenmarkt located nearby! The venue can be reached by U6 (station Josefstädter Straße).


Austrian Film Museum - INTERNATIONAL FORUM / BEST PRACTICE
Augustinerstraße 1, 1010 Vienna


For this year's International Forum / Best Practice we meet at the cinema Austrian Film Museum, founded in 1964. In this historic setting our international filmmakers will discuss their works of the past, present and future.

Located in the heart of Vienna, you can easily reach the Film Museum by U1, U4 (station Karlsplatz).


Bildraum 07 - EXHIBITION: MARTA PAJEK 
Burggasse 7-9, 1070 Vienna


Don't miss your chance to dive into Marta Pajek's work at the exhibition at Bildraum 07. Her incredible drawings will be exhibited throughout the festival. The exhibition ends at the 24th of March.
Blickle Raum Spiegelgasse - PERFORMANCE: AMINA HANDKE
Spiegelgasse 2, 5th floor, 1010 Vienna
See the 25 DPH durational performance of Amina Handke and Artists in Residence at the atelier Blickle Raum Spiegelgasse and have a close look on the practice of drawing and animation. The closest subway station is U3 Herrengasse.


Online


Wherever you are in the world, you can be part of the festival! So join us from around the globe in watching incredible animation work with the online festival pass.